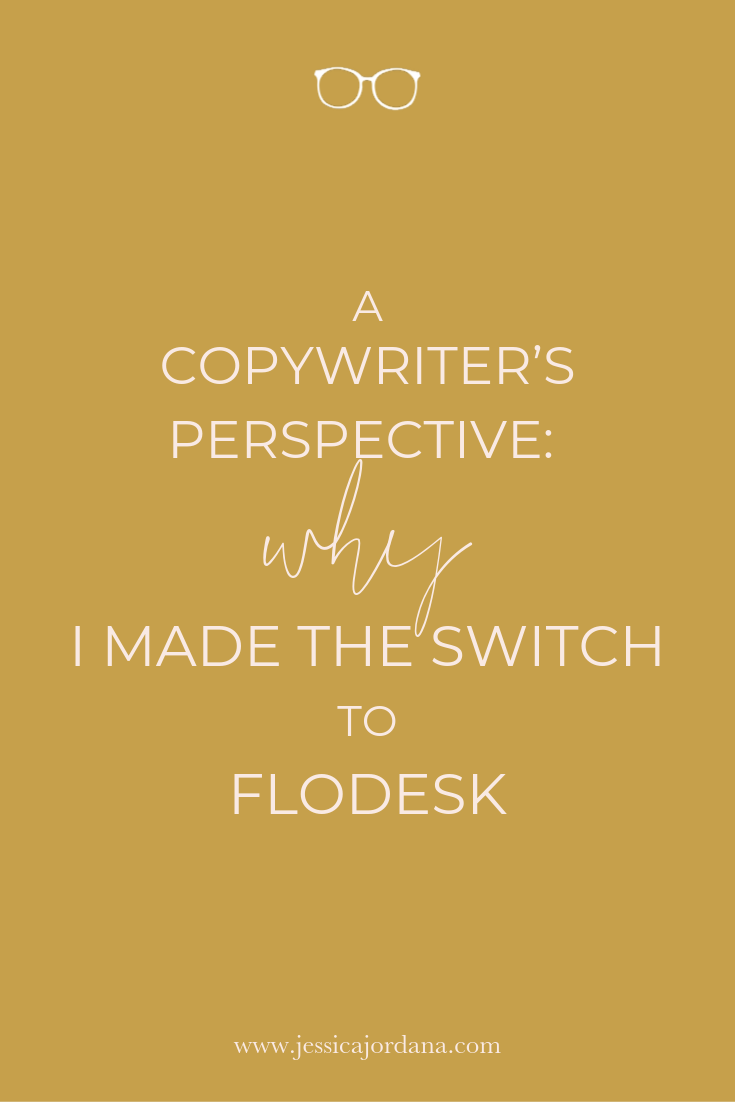 I still remember the first ever freebie I launched in my business.
Backstory: I started my business by jumping into the DEEP END of client work. I didn't have an email list, or even a freebie to build my list–okay, I had one, but it was probably the WORST thing I've ever created, and no one wanted it.
I think it was the best way to start, because, by the time I went to create my first legit lead magnet and start growing my list, I actually knew what people wanted, what they struggled with, etc.
From experience, I knew I didn't want to mess around with Mailchimp, because I'd heard horror stories. So, I decided to sign up for ConvertKit–you know, so I wouldn't ever have to switch.
I used ConvertKit for the better part of a year, and it worked. I also had clients (like HoneyBook and Rising Tide) who used ConvertKit, so I needed to know my way around.
I went about my merry business, and did what I knew how to do:
Step 1: Create an awesome freebie.
Step 2: Write copy for a follow-up/welcome/nurture sequence.
Step 3: Get it all to work together, install the copy, create a sequence, all that jazz.
Step 4: Get it out into the world.
Like I said, ConvertKit worked for all those things I needed it to do. BUT, I couldn't shake the feeling that every time I sent an email, it looked a little janky. Whether it was all words, or using a template of my amateur-design-creation (through a course I downloaded), it felt like I could get the words part down, but…
… were they making it through the whole email?
… did they know where to click?
… wait, was my email actually making it to them?
And even though I probably could troubleshoot and learn my way around those issues, I still felt like a total amateur showing up in inboxes every time I hit "send broadcast."
So, when Flodesk showed up in my content queue for RTS Email Marketing month, I looked around at the beta platform, and immediately thought…
… crap, I need to switch.
Today, I want to fill you in on why exactly I felt like switching was a good idea, even as a copywriter who prioritizes the power of words over anything else.
I also created a quick tutorial on how I create my weekly emails in Flodesk to my Cool Club, and I'm showing you a few of my favorite features (also sharing about a few things that are coming down the pipeline!).
---
Why I Made the Switch to Flodesk
Flodesk Perk #1:
Great deliverability + open rates.
When I used ConvertKit, email deliverability was a little bit of a mystery to me. I did notice every time I sent a test email to myself, it was marked as spam, soooo… probably not a good sign.
But, with Flodesk, you can immediately see the stats of any email, all in one pretty command center, like this: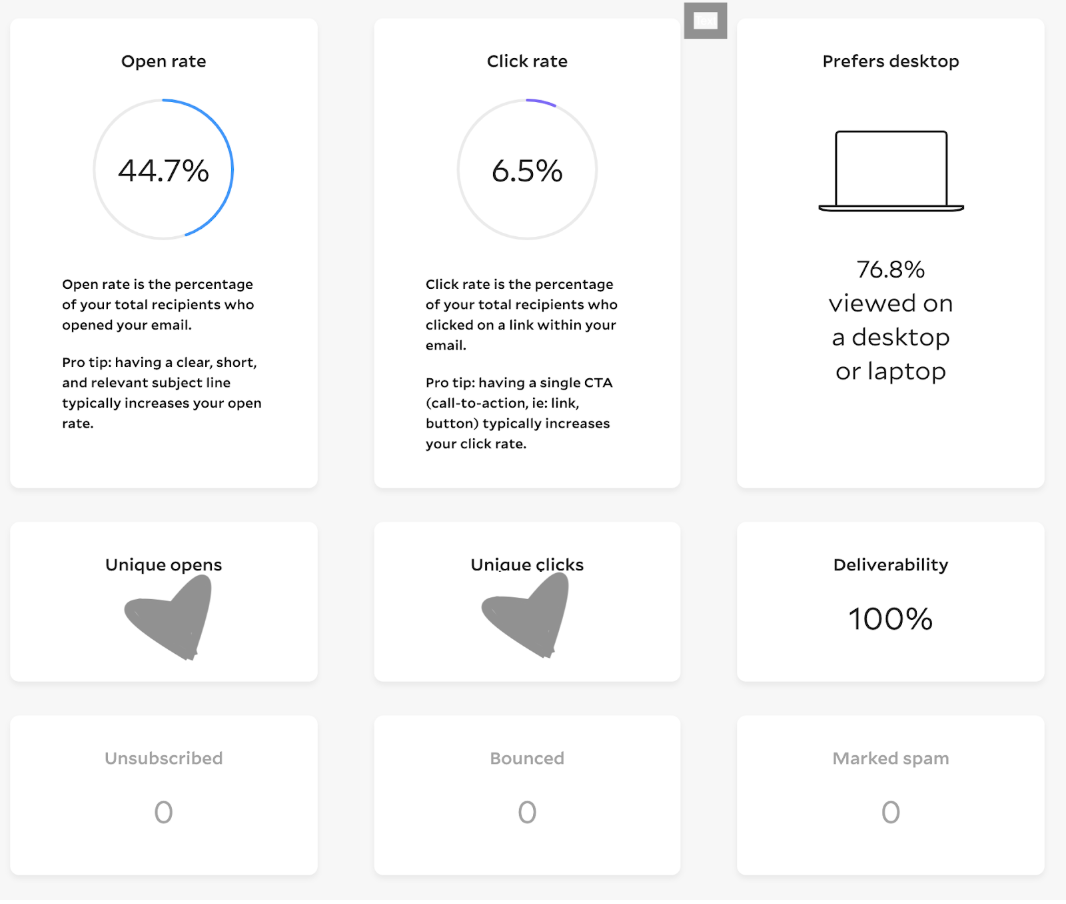 Deliverability essentially means, your email is actually making it into inboxes. It means nothing has "bounced," and nothing has been marked as spam.
The first hurdle to actually getting people to hear you out? Making sure your message makes it to them in the first place.
This was also one hesitation I was pleasantly surprised to have debunked by the wonderful ladies at Flodesk. I asked, "The emails are pretty, but does more images mean ending up in the promotions tab, or marked as spam?"
Rebecca graciously shared that, through their research, they've found that information to be out of date by a few years. The primary factor in ending up in actual inboxes is your email sender reputation.
Your Email Sender Reputation is scored based on factors like:
Amount of emails sent

How many recipients mark as spam

How often emails hit the spam trap (sometimes because of trigger words!)

How many emails bounce

Number of recipients who: open, reply, forward, or delete messages–plus, click through rates
Learn more about email sender reputation here.
Which brings me to…
My open rates improved with Flodesk
I'd be lying if I said I was upset with my open rates in ConvertKit. I mean (*brushes shoulder*) my list is a pretty engaged bunch. That INCLUDES my Grandma, who sweetly responds to all emails ever, but also an engaged and information/inspiration hungry bunch of (mostly) female entrepreneurs.
Industry standard for open rates typically hovers somewhere between 17%-25%, and click-through rates typically come in somewhere between 2%-3% on average.
My ConvertKit stats
Average open rate: 39.52%
Average click-through rate: 5.36%
But, My Flodesk stats
Average open rate: 54.2%
Average click-through rate: 19.47%
I mean…. MIND BLOWN, TOTAL EXPLOSION, RIGHT?
Not to mention, my email list increased significantly since I switched to Flodesk. Typically, with an increase in audience, most would see a slow decline in engagement percentages, but clearly that hasn't been the case.
Now, this wasn't really a clear split test. Part of those statistics can be attributed that I launched something brand new (holla for The Promptlate Shop!), and people were curious to see what I was up to. BUT, for the most part, it was business as usual: copywriting tips, messaging mindsets, and helpful + actionable blog posts for creative business owners.
I think the deliverability aspect had something to do with it, but like I said, the exact factor of change is not cut and dry.
BUT, I'll take improvement anywhere I can get it, and this felt like a win for me!
Also, it's worth mentioning that Flodesk gives you a clear process to customize preview copy.
This copy often goes unnoticed. In the simplest of terms, it's the first few characters of an email that typically show up in your inbox before you open an email.
Flodesk puts this step right next to the subject line, so you can't miss it. It's something DEFINITELY worth messing around with and seeing how tweaks can affect your open rates and engagement.
Flodesk Perk #2:
It makes your copy READABLE + helps you to draw the eye down the page/email.
The Flodesk templates are super helpful for pulling out big ideas and establishing text hierarchy.
Break that down a little more, will ya?
Basically, you can choose the most important pieces of your message and easily make them standout by creating an entirely different block, or varying the text within a given block.
With ConvertKit, using different fonts isn't really a thing, and if you do, it needs to be baked directly into your coded template design.
With Flodesk, you can easily change fonts, sizes, etc.
BUT, they also have layout blocks that help break up text in a visually appealing way. That means skimmers will love your new emails.
It draws the eye to what's important.
And, let's be honest: You should only be sending emails if you have something important to say (and that doesn't mean only when you have something to sell!).
But also…
One of my values in my business is to inspire people so that they feel seen, heard, known, and loved–and help them take action from that space.
(woah, goin' deep, Jess.)
This is a little bit more of a nebulous metric, but I know inspiration is a mashup of words + visuals, and how they work together evoke emotion.
Let's just say, my newsletter design in ConvertKit was like a really awkward conversation with your dad as a teenager, in the whole "evoking emotion" department.
The aesthetically-appealing interface + options in Flodesk help my carefully crafted words to really shine.
Now, that's not to say I focus on aesthetics before words. In fact, I still craft my weekly emails the same way I did in ConvertKit–in a straight up Google Doc.
As a copywriter, I want to make sure the message is the primary focus, and that the aesthetics of Flodesk's templates just complement the message, and help it translate more easily.
I suggest you still write first, design second.
If you let the Flodesk templates run the show, it will feel easy at first, but you'll run out of content and everything will start to sound the same if you take a "fill in the blanks" approach to every single email broadcast.
Flodesk Perk #3:
Eliminates all barriers of understanding.
When I send an email in Flodesk, I don't have to worry whether or not my people know where to click… or that there's something to click in the first place.
I used to be so paranoid that people would skim and not notice that there was a clickable piece of text in my ConvertKit emails, so I would do all the things like: CLICK BELOW, JUST CLICK RIGHT HERE, THAT TEXT BELOW IS SOMETHING YOU CAN CLICKITY CLICK, DO IT NOW.
Okay, maybe not quite that dramatic, but I still wasn't happy with my click-throughs.
With Flodesk, there's no barrier to knowing what to do, so people just have to make a decision whether they want what you're giving them beyond the click, or not.
In any copy you create, not knowing what to do should not be an option. Give people a choice, make them choose yes or no. A hard "no" (as in they don't click, don't inquire, etc.) is soooo much better than an, "Oh, I wasn't really sure, and then I just forgot about it."
Flodesk even has some cute templates with little arrow graphics to draw attention to the most important piece of the email. Whether it's a blog post, a link to reply, just one spot left on your client roster, new mini sessions open–whatever–your people will know how to get what they want, and they'll take action more because of it.
*The only downside is when you insert a super-clear button, with super-clear copy and then forget to put a click-through link… oops… don't do that. Not that I have, or anything.
Here's a peek inside how I create my emails.
from writing copy, to scheduling, and everything in between:
Flodesk Perk Honorable Mention:
The confidence it gives you is 🙌🏻
Remember when we talked about "barriers to entry" for your audience? Well, let's not forget about the "barriers to entry" that we face before we even start sending emails to our list in the first place.
I've heard so many of my clients + tribe say, "I just don't feel like I'm a big enough deal to have an email list."
That's bananas.
BUT, I've even felt that imposter syndrome.
My little mindset gremlins pop up and saying, "Who do you think you are to show up in their sacred inbox on a regular basis?"
Well, let's just say that Flodesk makes me feel more like, "I am Beyonce showin' up in here," instead of feeling like a little girl playing dress up with my cool aunt's shoes.
If confidence is holding you back from hitting "send," it's probably time to stop debating and just choose whatever email platform gives you that Beyonce feeling. For me, it's Flodesk.
Ready to give Flodesk a try? I would love for you to use my link (holla for the referral kickback!), if you are ready to get started! Bonus: You can get 50% 4 LYFE when you use my code!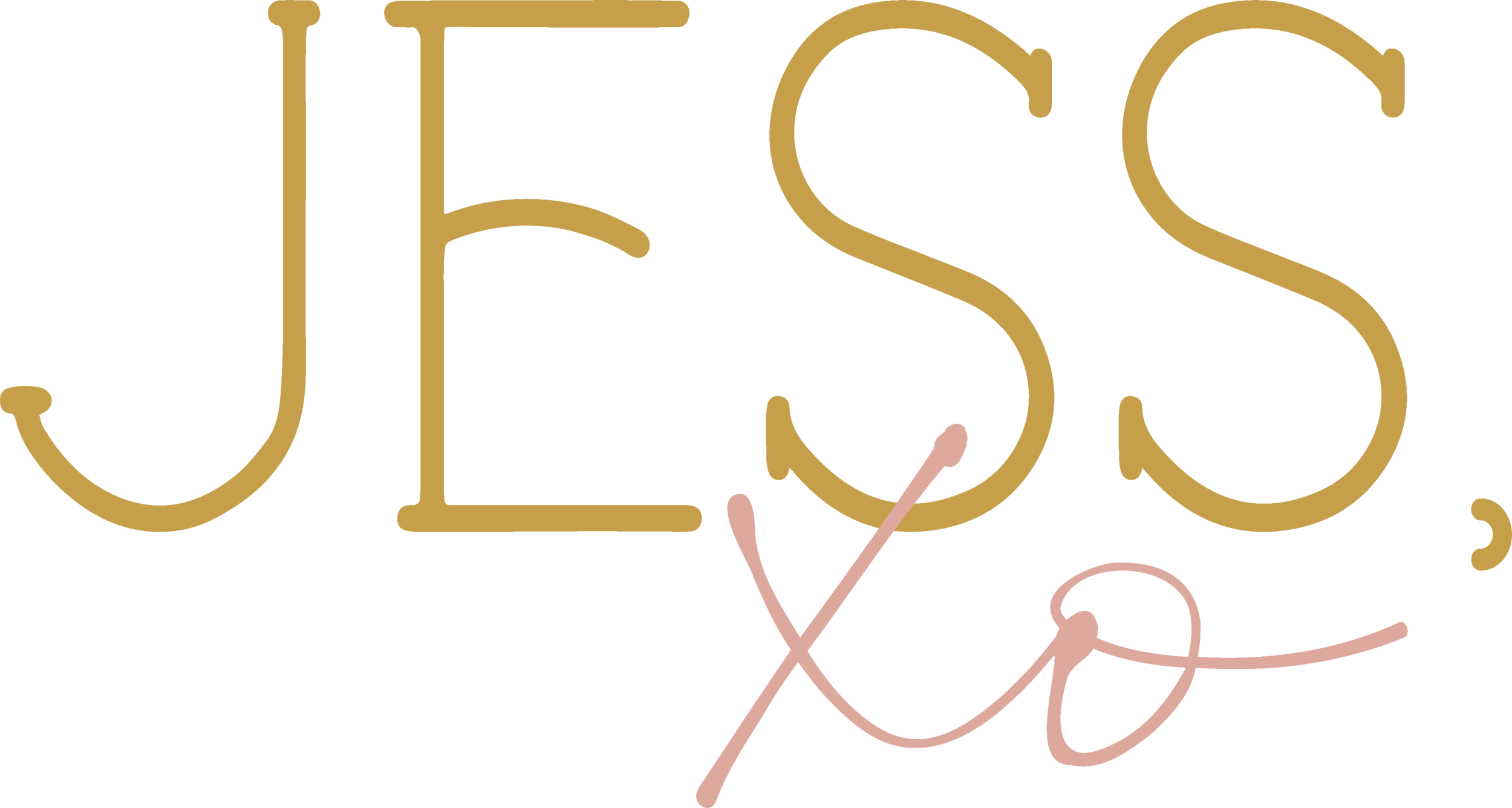 I'm Jess,
iced-coffee-obsessed, saved-by-grace, allergic-to-small talk, and one of the biggest dreamers you'll ever meet.
---
---