It seems like people are telling you to overhaul your business left and right.
Learn this. Re-evaluate that. Master this. STOP doing that.
My head is spinning.
In one of her lives just a couple weeks ago, Shanna Skidmore said, "The key to making 6 figures of profit in the next 6 months is this: 1) Get great at your craft. 2) Get great at selling authentically. 3) Know your numbers."
I don't know about you, but I didn't see that whole "master this, get good at that, stop doing this, definitely do that."
Here's a super secret: I don't think you have to master copy to run a thriving business.
I think you need to learn to dive deep into who you are and who your audience is, and do your best to meet their needs–CONSISTENTLY.
So, when everyone and their pants are telling you to overhaul your entire messaging strategy or to learn the ins-and-outs of copy, I just think… why
I've spent the past 6 months working around that very concept. I've tried to answer this question: How can I help people GET COPY UP on their website already, so it can work for them, and they can get back to what they really love?
That solution is coming NEXT WEEK. BUT…
Today, I want to teach you just a few strategies that you can apply to your EXISTING copy, to see change TODAY, not three months from now or after you can afford a professional, glasses-wearing, iced-coffee-drinking copywriter
(Oh, hiiii! That's me!)
---
3 Ways to Edit Your Website Copy TODAY:
1. Audit your current messaging.
This is important — make sure you're addressing all the questions your website visitor needs answered to make a decision/begin to trust you.
The fact of the matter is this: When people land on your website, they're searching for something.
Externally? They're searching for something concrete, they're trying to get something done, solve a currently painful problem.
But, internally? They're searching for a better version of themselves and wondering if your product, service, process, guidance is going to be the catalyst that finally propels them toward that version of them. You start establishing trust in seconds when you deliver on what they're looking for. Answering their questions before they have them shows that you're on your way to viewing your website the right way.
More coffee date. More conversation. Less hotel-counter brochure.
2. Make your content skimmable.
Have you ever been to a website with a pile of same-size, same-aligned text? You know there's gotta be meaning SOMEWHERE in there, so what do you do?
Well, if you're nice, you'll hope for the best and skim for some value. But, chances are, you'll give up pretty fast, hitting "close tab" and going back to whatever other tabs you have open at the moment.
The BEST, most targeted, specific, authentic copy means nothing if no one reads it.
Read through your pages of text, and pull out a few "drop the mic" statements from your big paragraphs. If your readers took nothing away but 2-3 lines or chunks of text, what would those be?
Davey and Krista have some great content explaining how to make your typography more readable, so go check it out as you edit through your existing content.
Even though I am NOT a designer, I devoted an entire section of each Promptlate to walking you through the editing and formatting process.
The LAST thing I want you to do is pour your heart and value out to the world only for it to fall on deaf ears.
3. Tell them where to go and when to go there.
Important question: Do you feel like your website is working for you?
If your answer is "no," what would make you feel like it was working? More inquiries? More comments? More emails in your inbox? More money in your bank account?
Regardless of what you're actually thinking, I'll bet it all boils down to this: You want people to actually take action.
So, do you know the exact action you want people to take at any point in their journey?

Have you explicitly told them to take that action?

Have you made it easy for them to take that action?
If you answered "yes" to each of those questions, then it all comes down to timing.
Try working backward from your Call to Action. 
The only way someone will click is when they believe they're ready for the next step. So, what are they wondering right before they take action? Make sure you answer that for them, fill that need, and then keep working backwards from there.
BUT, START HERE FIRST: You must know the action you want them to take, and make sure ALL of your copy is moving them toward that action.
BONUS TIP: Put your email address on your website.
Both Kat Schmoyer and Ashlyn Carter have ranted about this very thing in the past two weeks, each of them in the context of reaching out to people for opportunities. Is your actual email address on your contact page or in the footer of your website? If not, that basically means you're missing out on opportunities!
Like, I'm sure OPRAH doesn't go through a contact form, ya know?
But, JESS. What about my WORKFLOW, YO?!
Most people will still go through your workflow, especially potential clients, and ESPECIALLY if you tell them to!
Just in case, keep a canned email template in your back pocket (whatever the back pocket equivalent is in gmail) in case an inquiry wants to get fancy and email you directly.
It can say something like this:
"Thanks so much for reaching out! I'd love for you to fill out this form (hyperlink the form) so I can get to know you and your big vision for this project a little better.
Thanks!
Lorelai Gilmore
P.S. Oy with the poodles already."
---
I may have only given you a few action items, here. BUT, imagine if you implemented each of these over a week or so? How much more valuable, readable, clickable, and CONTACTABLE would your website copy be?
(That last one was a stretch, but are you gettin' my drift?)
Okay, GUESS WHAT?!
The Promptlate Shop is officially open!
It's time to get copy that will get you MORE CONNECTION and MORE CLIENTS up on your site already >> take me to the shop!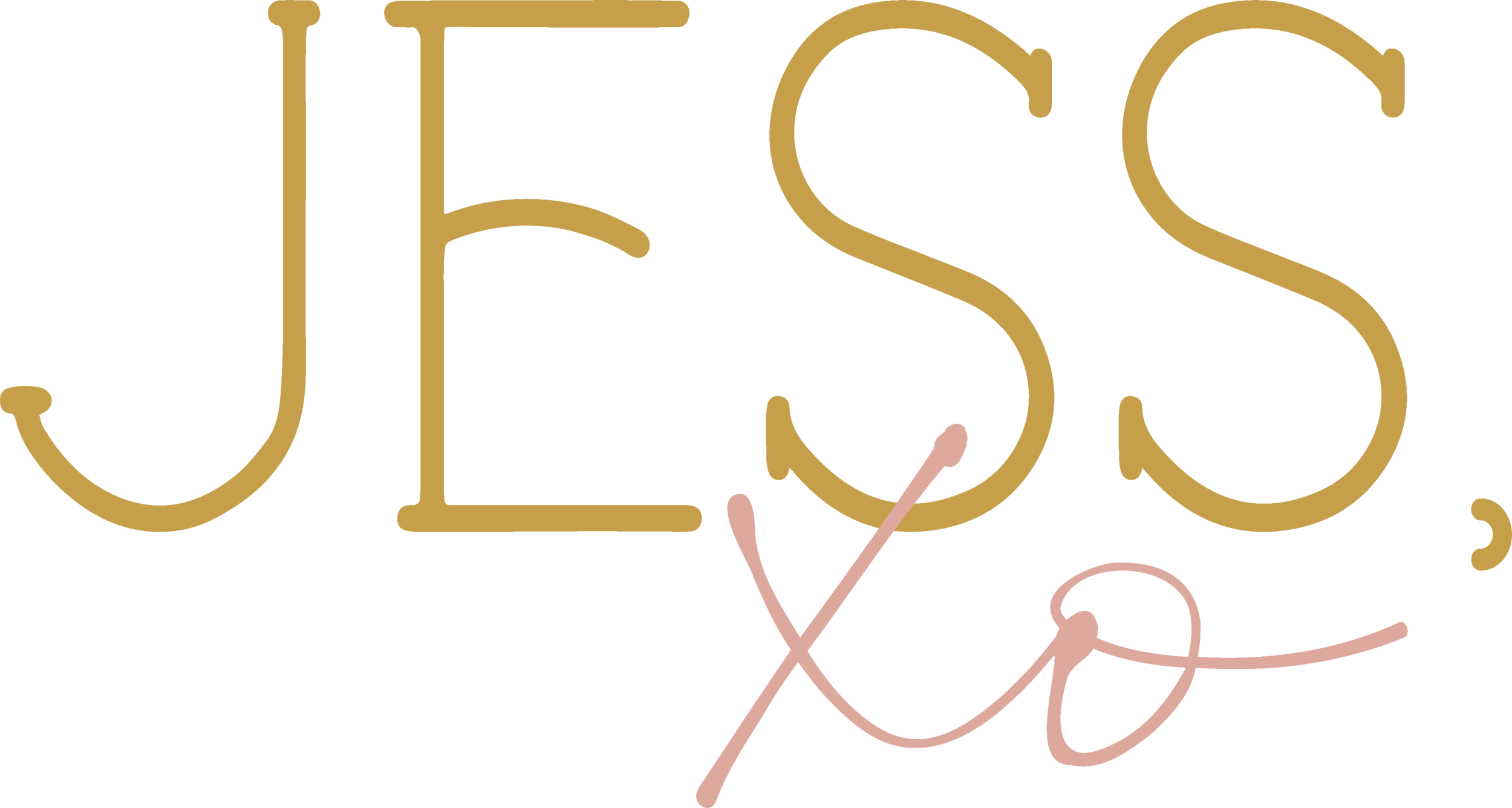 I'm Jess,
iced-coffee-obsessed, saved-by-grace, allergic-to-small talk, and one of the biggest dreamers you'll ever meet.
---
---