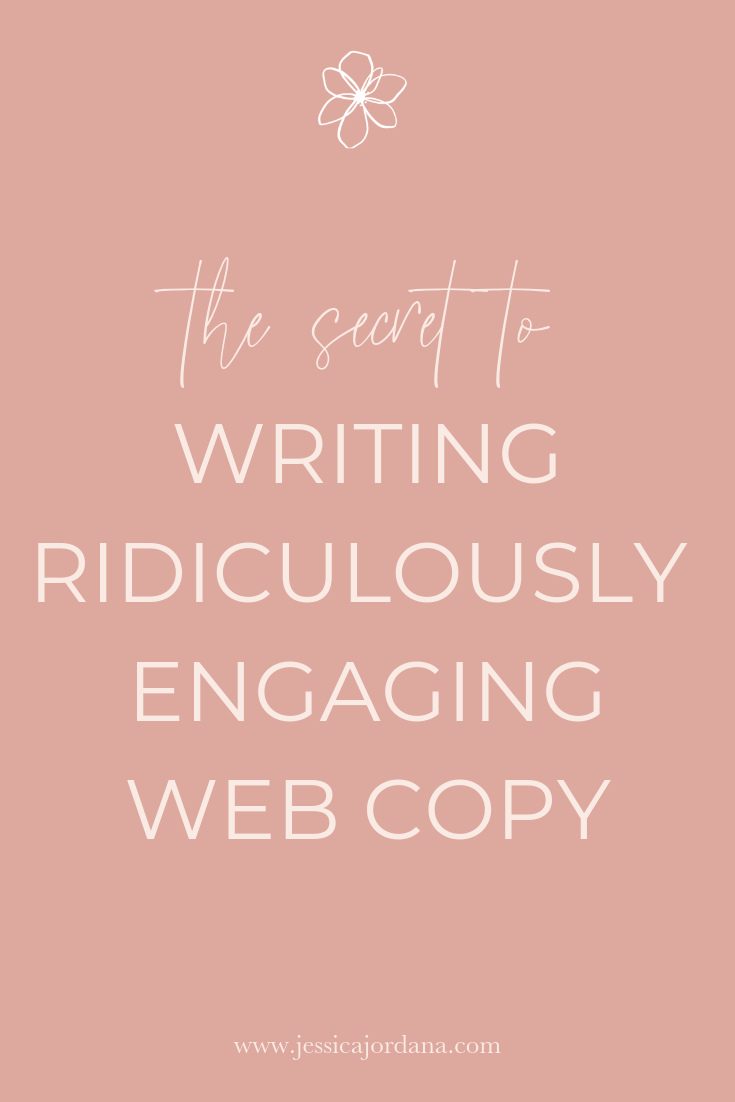 Okay, so websites need content, but how exactly are you supposed to figure out what will engage your audience when
1) they have the attention span of a goldfish
2) they don't even know you (like, she doesn't even go here! Add gif)
3) you need them to trust you enough to take quick action.
That is A LOT for some measly little words to do.
But, lemme tell ya.
Words are powerful, my friend, and if you learn how to harness them, you can do all those things and more with your web copy, resulting in your cold visitors turning into fast and trusting friends.
Here's the thing I want you to remember…
What web page copy is not: an information dump.
What web page copy is: Your one and only medium for maintaining attention and compelling your visitors to action.
What's the secret to writing engaging web page copy?
Your words must trigger this reaction: OMG, that is SO. ME.
What's the magic of this reaction when it comes to web page copy?
What it does: It holds up a mirror to help your web page visitor see themselves on the page.
Why it works: When people land on your website, they're likely searching for something. They're down a rabbit hole, but there is a root desire, want, or solution they're searching for. Maybe they want to make their business better. Maybe they want the wedding of their dreams. Maybe they want to learn how to look effortlessly cute on the daily. Regardless, they're searching for something that is going to help them embody the highest version of themselves. It's your job to hold up a mirror so your visitor can see herself on the page and subconsciously think, "Okay, I'm getting warmer. I belong here. Let me keep looking."
What it does: Banishes the "who are you to tell me what I need?" effect.
Why it works: When people write copy, they often are told to focus on solutions. When you focus only on the problem your product or service is solving, you spend a lot of word-real-estate tell your visitor why this solution is perfect for them. But you're skipping over the necessary first step: In order to truly show someone something is right for them, you have to show them that you see them right where they are, right now. You need to show them that you know them, specifically and personally, so that they trust when you tell them something is right for them, not just everyone.
What it does: Shows you have taken the time to solve a problem instead of just creating an offer.
Why it works: Our people are so used to being sold to, it's just crazy. We have smart audiences, you guys. It seems like everyone wants a piece of the online-business, personal brand pie. You know the last thing I want to see as a consumer? Someone creating an offer for the sake of getting their piece of the pie, trying to sell it to me, and hoping that I am blind enough to just do it, whether it's genuinely intended to solve my problems or not.
Gut check: I know you would never intend to create something with the intentions of getting your piece of the pie, but I want you to do a little gut check. That thing you created, was it because people asked for it, or because you wanted a thing? If the real answer is because you wanted something, you wanted to keep up with everyone else who has a course, a product, passive income, great services, I GET YOU. I really do. But I want you to go back to the drawing board just a bit, and take your thing back down to the true problem-solving studs.
Ask yourself: Do my people actually need this? Do they want it? What will the end result be? Will that end result solve a real, pain-inducing problem? Will it make their lives better?
Alright, now that we know how and why the "OMG ME" reaction makes your copy work, it's time to learn some practical ways to actually achieve that reaction with your message! Phew. Finally.
---
Tools for creating the "OMG, that is so ME" reaction with your web page copy
Create an unfiltered thoughts log.
The craziest thing ever is when you see those memes or graphics on Instagram or Facebook that verbalize something you thought only YOU have ever thought. You know the feeling, right? You DIE laughing because you're like, "Wait… other people think that, too?!" It's the best. The only way to do that is to keep track of thoughts that maybe should only ever live in your head.
Great Example: Enneagram and Coffee is inside all of our heads, and we completely eat it up. That's how they went from 350 followers to 17k followers in a 24-hour period, and has continued to grow like a live animal since then.
Record your calls.
I hate telling you things you already know, but I think this one is often undervalued. Maybe you've heard you should specifically record research calls, but operate under the habit of recording all of my calls. Inquiry calls, business coffee chats, client calls, and basically anything that has to do with business, I do my best to conduct the call on Zoom and press "record" once we get going. Why? Great question. Because the best copy comes out of the woodwork when nobody is trying to create it, when guards are down, and we're just talking. I'm positive it's where memorable phrases like "finger lickin' good," or "I'm Lovin' It" came from.
Remember: you don't have to go back and listen to all of them. But, in the event that something amazing is said, you won't have to scribble it down, ask them to say it again, or JUST FORGET ABOUT IT.
Pro Tip: I save recordings from zoom, but I go in and delete everything but the audio. Then, you can send that audio recording to a transcription service like (insert service + link) and pay a small fee to get all those words out in front of you for the taking!
Pro-Pro Tip: Spend a week or a long weekend batching this task, and dump your findings into a document that corrals all of your brand words together.
Use the Rainbow of Sales… on crack.
If you haven't heard of the Rainbow of Sales, here's an explanation in a nutshell:
Imagine where your dream person is right now.
Imagine where they want to be, where they want to go, what they aspire to.
Then, imagine everything in between that might get them there or what is holding them back. Speak to those things in that rainbow as often as possible if you want to sell that pot of gold they're trying to reach.
It is a great best practice for writing sales copy, and I use it religiously. BUT, I think this is where a lot of people get stuck: they can imagine the "what" of all these points of relation, but they struggle–or simply forget–to nail down the "why."
The key to this is not just understanding where they are and where they want to go, but WHY they want to go there, and WHY they haven't gotten there yet. Examine those obstacles. Why is this obstacle such a struggle? Is it because of mindset? How they view themselves? Lack of skill? Lack of desire? Knowing the "why" really helps you to get specific, and it helps you live in that place of actually being inside their head. It will also give you insight into just how much information and coaching you need to give to get them to take action. Is their problem just a lack of skill? That can be remedied fairly quickly. Is their problem a misalignment in identity? That's going to take a whole lot more due diligence and compassion in moving them through a new awareness and into a place where they know they need (and want) what you've got.
So, now that you know the #1 reaction to aim for in your web page copy, it's time to go tweak your copy so that it will actually connect. I can't wait to see what you come up with!
---
Action Step: Start your unfiltered thoughts log. Seriously, this might be the most genius tip in this blog post. If you create anything using your unfiltered thoughts, I want you to send it to me or tag me (@jessjordana) on Instagram! I can't wait to read through those, "OMG ME" or "this!" comments and reactions.
Jess, XO
I'm Jess,
iced-coffee-obsessed, saved-by-grace, allergic-to-small talk, and one of the biggest dreamers you'll ever meet.
---
---