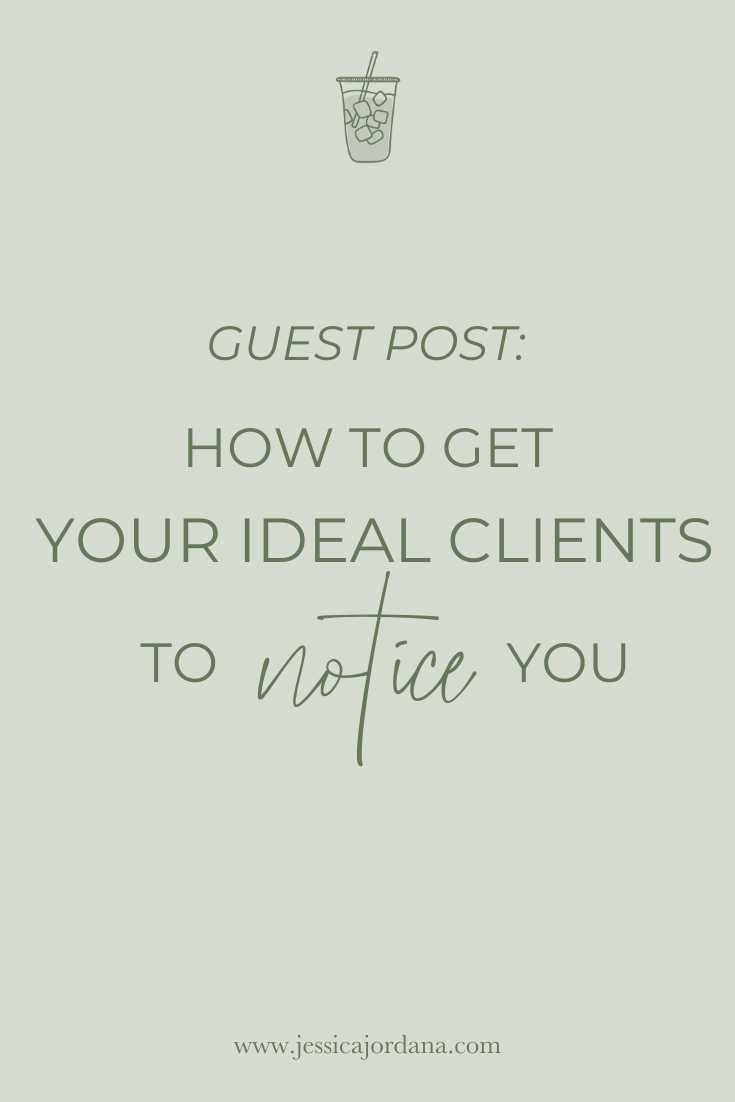 Today on the blog I'm excited to share a guest post from April Meisner of Brand by April Rose all about how to get your ideal clients to notice you. April's sharing some intriguing insights you might never have thought of before putting pen to paper (or fingers to keyboard) when writing your web or ad copy. I love April's approach because she really focuses on how copy and design work together within your brand strategy—which we ALL need to know more about (me, included!).
If you're ready to better understand why brand designers and copywriters ask those funny questions like "where does your ideal client shop" or "what types/color of clothes are in your ideal client's closet?" then this blog post is for YOU!
April also digs into the psychology of buying so get completely ready to nerd out!
---
Guest Post by April Meisner of Brand by April Rose
You're sitting at your desk, coffee steaming, podcast streaming, and a mind scattered with so many things on your to-do list that seem to be all your responsibility. And you're wondering: "How the heck am I supposed to get my ideal clients to notice or even listen to me?"
Here's the freeing truth, this one's not on you.
Imagine this, you're walking around the mall and you see a sign for Madewell. You know you can always find something you'll love there, even though your bank account is screaming a resounding "noooo!".
You walk in and out with three silk scarves and a wool sweater. (No shame here, I bet it's super cute on you…)
Here is the Madewell logo in case you haven't seen it (this will be important later so take note):

As you swipe your credit card for all the goods you just found, you remember you wanted to buy a snake plant for your office (great decision by the way.) You leave Madewell and look on Google Maps to see nearby plant shops.
You come across two options: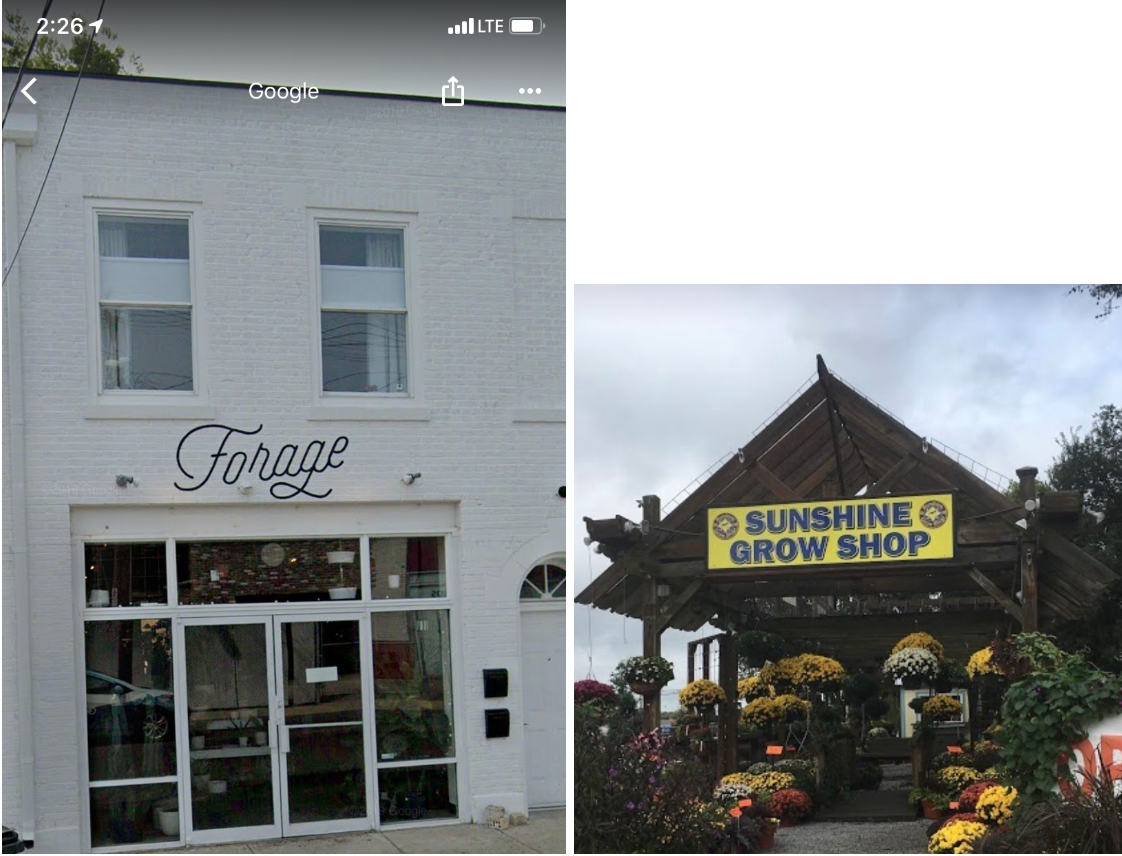 Which plant shop can you guess you'll hit "directions to"?
99.9% of you who shop at Madewell would say the shop Forage.
Why?
Now you probably didn't even look at how many $$ signs there were on the shops or even the reviews, but I can bet the first thing you noticed was the logo on the outside. 
It's clean, professional, looks aesthetically pleasing, and seems oddly familiar.
What I bet you DIDN'T realize was why you chose to route there.

YOUR IDEAL CLIENT'S PSYCHOLOGY OF BUYING
"Around 59% of shoppers prefer to buy new products from brands familiar to them." (Invespcro.com)
"It only takes consumers 10 seconds to form a first impression of a brand's logo, but it takes 5-7 impressions for consumers to recognize the logo." (Crowdspring.com).
What if those first 5-7 impressions were already associated in their mind from a similar brand they have purchased from before and who they trusted their money with?
We as consumers like to invest in what we know and are comfortable with.
We have a roster in our minds of trusted brands and companies that have our hearts and wallets. Now, as entrepreneurs, we need to build fans first with our ideal clients, then turn them into customers.
Unconsciously we gravitate towards companies who have similar typography, design and tone of voice to ones we already trust.
So what does this mean for you as a business owner?

HOW TO GET TO KNOW YOUR IDEAL CLIENTS BETTER
Identify your ideal clients: First, you really need to identify and know your ideal client like the back of your hand. I mean, like know where they shop, eat, and live.
I explain how to find out these statistics through data for your ideal client in my BR& Foundations Mini Course you can get here!
Study company branding: Once you know all about where your ideal clients like to shop, eat, etc., study the company branding of those places through their social media, website, and advertising. You don't want to copy, but emulate their style and diction. This then will attract their already existing audience to your services.
Patterns to look for in the brands your ideal clients already identify with:
Typography (Sans Serif, Serif or handwritten font?)

Colors (Bright, muted, earthy, patterns?) "Color is a huge factor in brand recognition. A signature color can increase brand recognition by 80%." (Crowdspring).

Print and Digital Collateral (Do they utilize business cards, stationery, email newsletters, stickers, packaging with their branding?)
You aren't stealing an audience, you're just presenting your services to them and meeting people where they're at. Using this strategy, opposed to approaching "cold audiences", will not only leave your audience feeling understood, but that you're a trusted brand they can feel familiar with.
Learn more in depth ways on how to become a trusted brand who guides your ideal clients with my service Site Psychology, a website review and strategy for photographers and creatives.

BRAND ELEMENTS IN WEB COPY
Just so we are on the same page, let me define two words that are commonly mis-defined in the creative world:
Brand noun: A result. A person's gut feeling about a product, service, or company. What they say about you when you aren't in the room. Your reputation.
Branding noun: the promotion of a particular product or company by means of advertising and distinctive design.
Brand Elements noun: The brand name, logo, tag line, shape, graphics, website, color, sound, movement, smell, and taste that a product, service or company uses to create a cohesive brand identity.
Now knowing these definitions, you can see that "branding" is a pretty broad term that is often misused. Here we are just focusing on the brand elements of a logo, color, and graphics.
Now relating this all back to the copy, cause that's what you're here for right? A trick I use when I find a brand I know my ideal client trusts, is I go copy fishing. You're thinking "Wow, this designer from Kentucky sure is leaning into her roots."
I mean "fishing" in the sense of deep diving into the copy that this brand uses, throwing a line (see what I did there), and seeing which one catches on your hook.
COPY FISHING IN THE WILD
Here's an example:
I know a brand that my ideal clients love is Madewell, as mentioned before. In addition to my similar clean, black and white branding, I try to study their copy diction: Their tone, sentence structure, topics of interest etc. I fish for this copy in their social media captions, advertising, and website copy.
I had a recent ad I wanted to run and was stuck on the copy I could use to attract my ideal client in a way that would make them take action.
One of Madewell's recent ads said this:
"Turn Around. Take a new look at our jeans. Shop our new denim."

I noted the diction in their ad:
Active voice

Call to Action

Short Sentences

Direct and to the point
I tried this out on an ad I ran on Pinterest for my new Site Psychology Website Review Service and it said this:
"Struggling to convert website visitors to paying clients? No more staring at your laptop. Book Site Psychology today."
After looking at the copy used in my ad compared
Using some A/B testing, I compared the previous longer copy I used to the ad copy closely related to the Madewell ad dictation (same images and layout of the ad itself) and received 70% more click throughs.
There's your hook, line, and sinker.
Talk to your ideal audience in a way that they will listen. Don't just speak for the sake of speaking.
Your ideal client WILL listen when they hear a familiar voice and see a familiar brand face.
---
I love hearing how April used the concept of WHY someone buys and the brand elements to pull into her ad copy. When we write for our ideal clients, it doesn't have to feel like throwing spaghetti at a wall and then trying to eat it. (ew!) The point is, when you really dig into who your ideal audience is and understand what motivates them to buy, you then can speak TO them instead of trying to speak to everyone else.
Copy has to attract AND repel. Once you understand that mindset, you can do anything with your web and ad copy!

Related: 3 Ways to Edit your Website Copy TODAY for More Conversions
Hey guys, Jess here! April is offering 15% OFF of her Site Psychology Website Review Service that shows you how website visitors move through your site, and you can get an opinion from a professional web designer of what you need to change in order to have a higher converting website. Just use code: JESS15 for your discount!
I'm Jess,
iced-coffee-obsessed, saved-by-grace, allergic-to-small talk, and one of the biggest dreamers you'll ever meet.
---
---