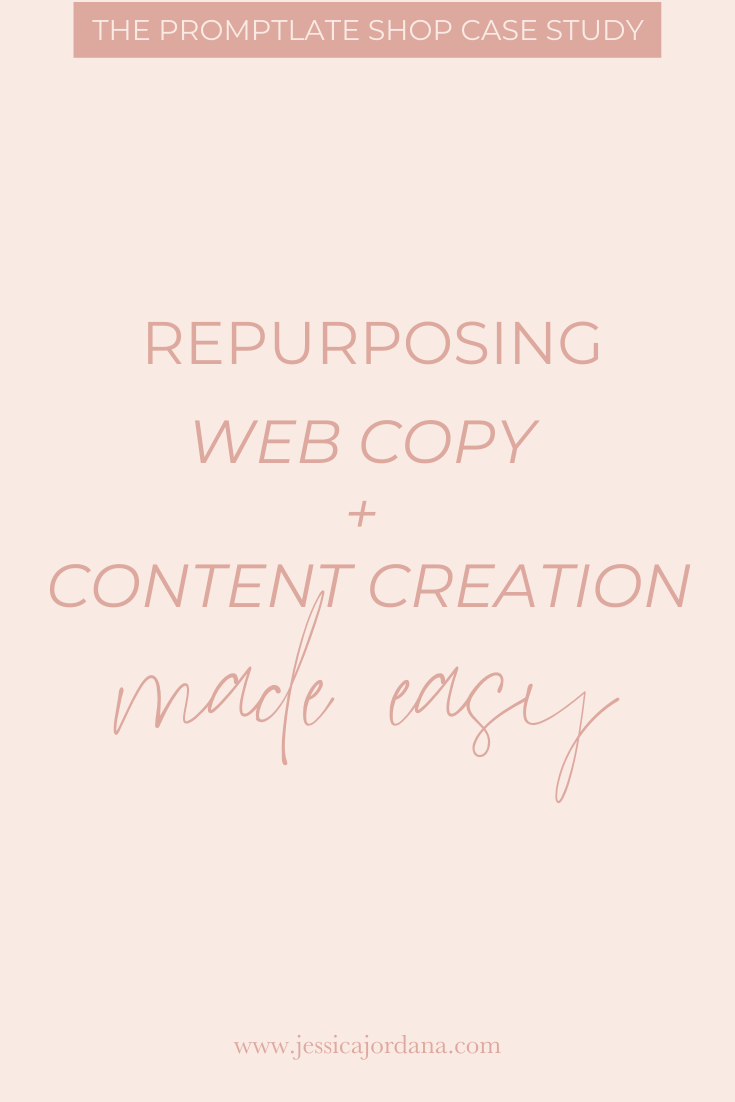 This is Part of the Copy that Connects Series
Words. Words. Words. Who knew as a business owner you'd have to write so many words? From website copy to instagram captions, email newsletters to Pinterest captions. As entrepreneurs, we're on a hamster wheel of content creation praying for the wheel to just stop spinning.
The answer we hear like a broken record: Repurpose your content!
Alright, Gina. Easier said than done, right?
You're probably throwing your hands in the air like you just don't care 'cause that sounds all great, but how in the actual heck do you repurpose content if you don't even know how to write or what to say in the first place?!
What if I told you it's totally possible to get REALLY confident with your brand messaging and to repurpose your web copy that'll influence your social media and email marketing, too?
Website words should never say die. Kinda like The Goonies.
But really. Think less time. Same brand message. And dream clients knocking on your door left and right.

Um, wait—you mean, I could save time creating content by simply using my website copy?

Yes, QUEEN! You can! (How was that? Did I say that right? 🤣)
---
And today, I'm excited to share an About Page Promptlate Case Study from Alex Collier of Alex Collier Design about how she repurposes her web copy to reach her ideal clients on the daily.
"The Promptlate Shop not only gave me a tangible result in new web copy, but it also helped me dig in and think deeply about my business and how I'm communicating with potential clients." – Alex Collier
---
HOW TO REPURPOSE YOUR WEBSITE COPY
Alex admits her website copy was something she wrote when she first started her business and hadn't touched it since. As her business evolved and grew, her copy no longer fit her offers or her approach.
Sound familiar? I bet it does.
This is so common with my with one-on-one copywriting clients and students inside The Promptlate Shop.
Here's the thing: Copy is where our story and our ideal human's story meet.
It's our way of connecting with our audience and bridging the gap between what they need and what we offer. That connection is what brings conversion.
You can't simply write your website copy once and "forget it." Because if you do, your business will NEVER evolve as you do!
Ya with me?
I wanna challenge you. When you think about what's holding you back from completely rehauling your copy, do one of these objections come to mind?
I don't have thousands of dollars to spend on a professional copywriter.

I'm struggling to see how what I offer is different than what she offers.

I love what I do, but I can't put that passion into words.

I don't have time to write my own website copy….let alone marketing content.

Where the heck do I even start to create a strong and consistent brand message?
Let's take a look at where Alex started.
"The hardest part was putting everything together as the sections, breaking it into manageable chunks, and figuring out what would be my header 'mic drop' statements." – Alex Collier
But the easiest part for Alex was actually answering the prompts. She felt comfortable writing more freely instead of aiming for perfection since she knew she'd be refining her answers to each prompt when she got to the template stage of the Promptlate.
(Prompts + Templates = Promptlates)
Ya still with me?
As you can see, Alex does an incredible job of droppin' the mic with headlines and call-to-action statements like:
A luxury client experience begins with your website.

Hi, I'm Alex. I create websites with beauty and brains.

What does it mean to have a website with beauty and brains?

Are you ready to create a luxury web experience for your clients?
In fact, that little phrase, "Websites with beauty and brains" came out of Alex telling me she didn't understand how her own personality connected with what her audience wanted. She valued smarts and strategy when it came to website design. BUT, she felt like her ideal audience—wedding industry pros—always just wanted the pretty.
Then, she thought, "But they can have both!" And so began her true mission: To show the value of websites with beauty and brains and convince her people that there's no better way to do it.
I'd say MISSION ACCOMPLISHED, right?
---

---
BENEFITS OF THE PROMPTLATE SHOP
"The About Page Promptlate equipped me to totally revamp the copy on my About Page. Now, it captures my unique personality, mission, and process and speaks to my ideal client. I'm also able to repurpose my website copy in many other ways for my business! – Alex Collier
Alex shared that since using the About Page Promptlate, writing content for her business is a breeze, which in turn has grown her following on Instagram AND her email subscriber list.

"I often reference my About Page when writing other content for my business." Alex said. "Sometimes I even copy and paste phrases and sentences into my Instagram captions and email marketing!"
This is repurposing your website copy like a total champ.

SO HOW DOES IT WORK?
One of Alex's favorite reasons for investing in The Promptlate Shop was that it made writing words for your website easy and affordable.
Did you hear that? Words. Easy. Affordable. All in the same sentence.
It's TOTALLY possible.
Over on Alex's blog she shared:
"You'll access your Promptlate as a Google Doc. It's super easy to just type directly in the doc—no weird files to download and open in a program that you may or may not even have on your computer.
The first section of a Promptlate is the prompts. The prompts are broken up into sections, like "who you serve + what you do." In each section, there are 5-10 questions digging in deep to your business.
The next step is choosing and completing a template. Yep, that's right, there's more than one template in each Promptlate. For my About Page, I chose to use "the inspiring intro" template. Jess explains on video in the Promptlate how to choose which template will best fit you and your business.
The templates are broken down into sections and refer you back to specific prompts that will help you write each section. This was probably my favorite thing about the whole experience. So simple and easy!
The final step is editing and formatting your copy. Jess has another awesome video explaining how to do this. I found it helpful to "chunk" my content into what I knew would eventually be sections of my website."
I luh-luh-LOVE how Alex breaks down how the process worked for her. I mean, she DID write her About Page copy in a week, with her own business, and a full time day job.
It was easy, affordable, and quick—three of the biggest "hold-up-wait-a-minute" objections I hear from so many of you struggling to write words that connect on your website.
Promptlate Shop students rave about the fact that The Prompts remind them of the very foundation of their business. It helps them dig beneath all the shoulds and could-haves to get to the heartbeat of the business they actually want to build. Sounds pretty great, right?
---
Not sure what Copy that Connects really means? Keep an eye out for my free masterclass happening in just a few weeks!
---
I'm Jess,
iced-coffee-obsessed, saved-by-grace, allergic-to-small talk, and one of the biggest dreamers you'll ever meet.
---
---