Okay, so I'm officially in my late 20's, you guys…
My birthday weekend was full of wine, ice cream, friends, games, great food, mountain biking, and opening cards from all the people I love for the most AMAZING mail day.
When I sit down to reflect on the past year, ALL I CAN THINK is… Jess, you really don't have it all together yet?
When I was younger and thought about being 27, I thought it would look a lot more like high-rises, high heels, working in high-demand, in my highly coveted job.
I always wanted to be a magazine editor – someone who sets trends and literally has it ALL together, so she can teach everyone… via magazines… how to have it all together.
That couldn't be further from the truth. But, I like this version of me better.
I do, however, want to get back to a little bit of the "blogging for fun" and "documenting my journey" that I've done since college.
So, I thought, what better time than a birthday post?! Today, I'm sharing things I thought I would have down by 27 (and don't), as well as things I learned, and goals + experiments for the year!
They don't add up to 27 or anything, but… I'm not PERFECT, okay?
---
Things I Thought I Would Have Down by 27
Manicures.
As in, how to give myself one. I tried to do my nails yesterday, with this sweet new nail polish I bought for funsies. Result? It was a travesty. A sham. My nails are streaky and uneven – NOT to mention, it took me approximately forever. I don't know how to trim a cuticle without a chainsaw massacre situation happening. It's bad.
Is this a thing late 20's women are supposed to know how to do? I also hate going to get my nails done in our new town, because I haven't found that perfect nail salon. Plus, the scheduling. And the hour or two out of my day.
I guess naked nails is the name of the game for now. UNLESS… does anyone know a manicurist who will come to my house once a month? Dream outside the box, right?
Laundry.
As in, finishing it in less than a 48-hour period. Or… okay, honestly – sometimes a 7-day period.
I know it's only going to multiply from here, so this has got to be the year I get it together.
Making new friends.
Is it a thing, as an adult, to just go up to someone and say, "Hi! Be my friend?" Kids do it so well, and it seems like a really great, straightforward tactic that would waste minimal time.
Instead, as an adult, you have to wait to be in some social situation together, and then let things unfold organically over time with multiple encounters, gradually diving deeper into conversation in proportion to the amount of encounters.
Boo. No thanks. Deep dives + friendship crash courses are my jam.
Tidy salting.
Okay, this one's a little from left field, but hear me out.
I have a cute little salt dish, bowl thing my Mother in Law gifted me for Christmas one year. I keep kosher salt in there, and grab a little pinch when I'm cooking. Y'know, all Rachael-Ray-like.
For some reason, my fingers don't understand the salt-ratio to finger-capacity necessary to get all of the salt from the cute little dish to the actual food/pan/bowl/etc. It results in little trails of salt everywhere. On the counter. On our stove (underneath the grate, of course). On the floor (thanks to the Joey Tribbs clean-up crew for keeping that in check).
It seems like a very 27-year-old thing to have a special salt dish, but like a very 26-year-old thing to spill salt everywhere. Again, tutorials, please? I know the logical thing would be to move the dish to where you're sprinkling, but I'm usually holding at least 8 things in my hand at once.
---
Things I was really proud to learn this year
I don't have a coffee budget.
I spent years feeling guilty over how much money I dropped on coffee. I mean, it's such a luxury to me. I love the experience of going to a coffee shop. I like to bring people coffee. I like to mark an occasion on a fun Saturday morning by getting some coffee to go with my errands. It's my thing. But, in the back of my mind, I always thought, "Oh gosh, this is not normal to spend this much on coffee."
As a result, I wouldn't get as much joy out of a very joy-filled thing for me because of that little tinge of guilt. Or, I think I maybe felt guilty that I didn't feel guilty? Ohhhh, to spend a day in my mind.
But, here's the conclusion I've come to this year:
Quite honestly, if that's the one guilty pleasure I have in life, I think I'm just gonna keep on truckin' with my joyful self.
HOME, redefined.
Being "home" is a weird concept. But, I'm learning that people, places, and even small things can feel like home. This year we moved from a place we would call "far from home" to a place we dubbed "back home." But, even in that journey, there are pieces of home I miss from DFW, and I'm working to find different pieces here back in New Mexico.
I think God helps us find "home" in things we never expected. Like, finally having a weekend routine again, or a coffee shop barista knowing your order. Even knowing which grocery store has the good produce is a form of home, even though the mourning Trader Joe's never really ends.
Most of all, at 27, I finally feel at home within myself.
It's this weird mixture of finding peace I don't know I've ever held before, and also finding my way back to a "me" I knew was there, but had trouble piecing together all at once. This year, I've found home in health, in life, in work, and so much more – and I'm here for it. Right here, present, and home.
And, now, because I'm stepping into this whole "home with myself" thing, I'm choosing to embrace some things that I love and step into some areas that I want to stretch and grow this next year.
---
Things I'm trying for year 27
Some of these things may seem random, but in true Jess-fashion, milestones tend to flip some kinda switch in me. The switch for this year?
It seems to go by the theme of: If it brings you joy or ease, say "yes."
This one can be filed under "things I've REALLY wanted to do, but felt totally extra actually doing." I've started to be a whole lot more conscious about what I'm putting in my body, from a sourcing standpoint. Because, honestly? Sometimes "healthy ingredients" can be the complete opposite, depending on where you get them from.
Grass-fed and finished + pasture-raised meat I think is a really good place to start this journey, so I finally took the plunge.
Plus, WHAT COULD BE BETTER than getting a box of delicious meat on your doorstep?
I'm excited to see how much we love this service. I also think it will help me with meal prep, since I'll know ahead of time the meat we have available, and can plan around that – and hopefully incorporate some veggie-centric meals, too!
ButcherBox is pretty much always running a freakin' awesome promo, but if you purchase TODAY, you can get 2 pounds of grass finished ground beef, fo' free, for the life of your subscription. Check it out!
Amazon subscriptions.
I did a really nerdy thing on Friday, and actually compared prices of our local grocery store to Amazon for household items. The verdict? We can save at least $1-$2 per item, per purchase, through Amazon subscriptions. Plus, you can set the subscription for whatever frequency you want, from every month to every six months.
I went ahead and went for it, and I'm super stoked for the convenience, more than anything.
I'm curious, do you guys do Amazon groceries or subscriptions? This feels like ONE of the most adult decisions I've ever made.
"Keeping up with correspondence."
Doesn't that phrase sounds so British? I think so. Anyway, I am the WORST at keeping up with birthdays, making note of addresses, and all that jazz. I'm making it my goal this year to keep track of birthdays, batch-buy birthday cards to have on hand, and send them out once a month. I felt so loved by the simplest of birthday cards this year, and it just reminded me how much I love and value snail mail. And, I think other people do, too!
Here's what I'm planning to use to stay on track:
Postable. I'll use this service to keep track of addresses and contacts, as well as birthdays. BUT, I plan to put the birthdays on my calendar, too. With Postable, you can use it as an address book, but it also allows you to send cards straight from the website, in case you don't want to go to the store to pick them out.
ALSO, they have an "automated birthday cards" option. Literally, choose cards, and they'll automatically send them out on your recipients' birthdays. Systemization for the win!
You can use this code to get $5 off your first purchase: MR8FNP23WH.
---
All of these things might seem super simple to you. BUT, I think if we get too complicated with our goals, we won't execute! Then, you'll just stay in that limbo of dreaming big, but never doing the everyday things that get you there.
What small things do you want to change in the next year? Have you chosen to do anything like this to streamline + uplevel your life? I'm curious!
Here's to 27! I can't wait to see where it takes me.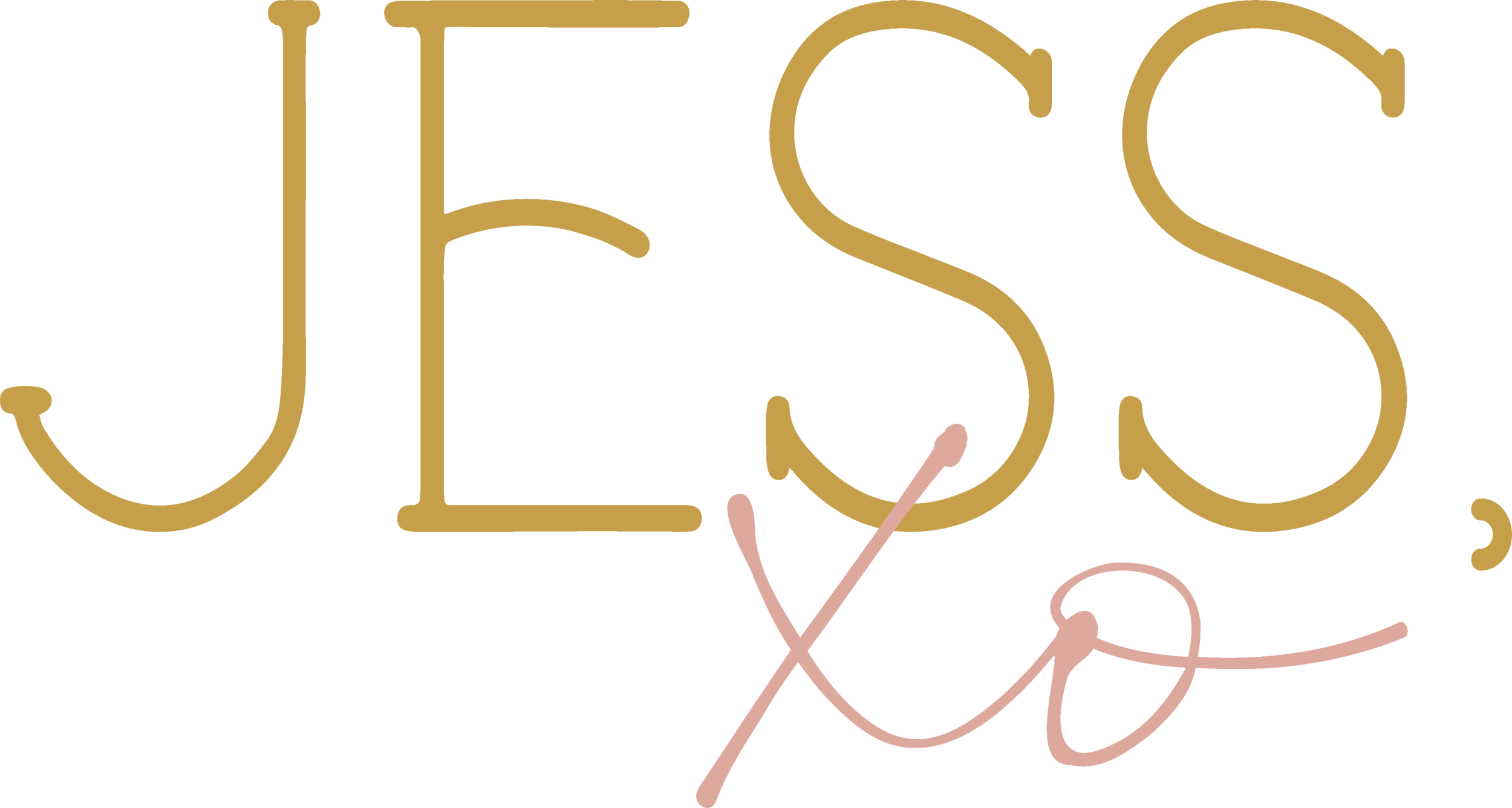 I'm Jess,
iced-coffee-obsessed, saved-by-grace, allergic-to-small talk, and one of the biggest dreamers you'll ever meet.
---
---