Attending Creative at Heart Round 9 was everything I imagined, and MORE.
And, YOU GUYS, I imagined the heck out of it.
I'm not being dramatic when I say, Creative at Heart was a huge catalyst to starting my business in the first place.
I'd always had this fire in the back of my mind, and college stoked the fire like crazy. I thought:
Maybe I don't fit into molds for a reason.
Maybe I'm supposed to do something different (I scoffed when people would immediately label me "teacher" when they heard I majored in English).
Maybe all of this (motions to self, like a Beyonce-style body-roll) will add up to something God had in mind just for me.
Maybe? Well, maybe seemed like it couldn't come fast enough. I spent college and the years after searching for something I could do that was special, different, valued, so OF COURSE I tried to do what everyone else was doing.
I thought about calligraphy.
I thought about graphic design.
I thought about photography.
But after the WORST experience of designing my own wedding invitations and a couple of instances as The Second Shooter Who Shall Not Be Named, I realized it was time to do something I knew I could do: TEACH.
That would be easy, right?
We don't have time to go into that story, BUT…
I had been following Kat Schmoyer since 2014, probably in one of those rabbit-hole scroll moments where you start following ALLTHECREATIVES, because proximity breeds… something, right?
As I kept dreaming, it popped into my mind: How can I start a business that would allow me to be a part of this community?
The community was what I dreamed of: friends from all over the nation (and world!) who just get it. A community who valued you for your talents, but also just for you?
Sign. Me. Up. WAIT…
… I needed a business.
Well, 5 years, many failed business ideas, a high school teaching journey, and a full year of business later, I found myself at my dream conference.
You guys, it did not disappoint.
In this blog post I want to share with you the heart checks that really shook me, the actionable items I left with, who I met along the way, and why I think education matters in the grand scheme of business.
Heart Checks from Creative at Heart
Day 1 of Round 9 was an emotional free-fall. The combination of speakers on this day was perfect for reminding us of the heart behind business and why what we do matters, but the tears were in full force for pretty much everyone.
At one point during Laura Foote's talk, all you could hear was "chk, chk, chk, chk," the sound of the adorably-branded Creative at Heart tissue packs tearing open one-by-one.
Despite the heaviness of the Day 1, there were some really big-idea takeaways that shook me to my core.
"We get to make the rules." –Megan Martin
I shared more about this on Instagram a couple days ago. This truth hit me because I feel like I've fallen more into what business demands from me than demanding the life I want from my business. While I can't implement all of these changes immediately, I'm taking small steps now that will hopefully make a big difference.
I'm defining what I want things to look like – the BIG picture. Shanna Skidmore helped us through some of this process during her keynote, and I'll be diving back into it soon because I am also…

Taking Fridays off. In the interest of making progress now, I asked myself, "What's something I can do now that will feel big, but will make a small dent in what I've already committed to?"

I've always intended to take Fridays off, but in this busy season, I've allowed things to spill over into Friday, resulting in unfocused work and COMPLETE frustration on my end. The reality? Not much is getting done on Friday, anyway, so I just decided to cut it.
"Is it possible to succeed at the wrong thing?" -Laura Foote
This little line cued my "chk" *opens tissues* moment during Laura's talk. I tried to calmly and quietly get out the tissues, but then the tears started falling so fast, it was too late.
You see, I have the blessing and the curse of tunnel vision. On the one hand, this combination of strengths has led to many of the successes I have today. On the other hand (the one that mostly hides behind my back for fear of being found out), that means if a path is put in front of me, I barrel forward without much thought.
It didn't take long as a teacher for me to add "blogging teacher" and "grad-school-going-teacher" and "speaking teacher" and "trying-the-things-nobody-else-will-do-teacher."
It was a lot, but I just took on the next thing and the next thing until I was buried beneath the weight of achievements that weren't leading me toward a life I wanted.
I don't want that to happen with this business, but it's easy for me to head in that direction.
Laura's talk reminded me to return to my roots, to the heart and magic of my business, and make sure I'm walking hand-in-hand with that purpose every step of the way (even if it means side-stepping instead of barreling forward, like I'm used to).
Ironically, my website has always said, "I want to shine a light on the magic in you that's been there all along."
Laura ended her talk with, "The magic is in you, you need not go far. For the magic cannot live outside of you unless it first lives within you."
Hearing her echo this core value of mine made me realize, "Uh, Jess? When's the last time you got back to your magic instead of just helping everyone else with theirs?"
*mic drop*
I had all the full-circle feels with Lara Casey (and hugged her in person!)
My first rabbit-hole into the creative world was Lara Casey's goal-setting blog series. I remember one Saturday, sitting in my dorm room and stumbling upon Lara's blog. I ran to Target real quick to get a super-cute + inspiring notebook, and I proceeded to go through her entire series, start to finish.
That day, I set goals all surrounding stepping into who I was rather than being who everyone else wanted me to be. In my OG, handwritten Powersheets, my first action step was to start a blog.
The rest, as they say, is history.
The blog led me to uncover the fact that writing for a living wasn't just a lofty dream, but one I could bring into reality through tiny action steps and simply showing up.
I got to tell her all of that when I met her for the first time, so completely BASIC as I cried to her and hugged her (and asked the photographer behind me to take some BTS pictures.
---
Actionable Items:
SEO.

Confession: I hate SEO. But Davey Jones' session made it seem manageable and also gave me some new ideas for content that sounds fun, instead of just like "what you're supposed to do." I generally revolt against those supposed-to-do's, which is why I do keyword research for all of my clients, but completely neglect it for myself. *eyeroll*

Strengths + The Enneagram.

I had the privilege of attending both Sarajane Case (of Enneagram and Coffee) and Laura Foote's sessions.

Sarajane approaches The Enneagram from a much more positive lens than I typically hear it taught. She gave tons of actionable information in the interest of knowing yourself deeply, but also loving yourself well into growth and the best version of you.

Laura's strengths session further solidified my need to go back to the roots of my magic, and to stop holding the dang pen in my left hand, trying to muscle perfection and completely wasting my time.

I also realized that I get hung up as an educator in many ways because I'm trying to teach my magic instead of owning that as my own. I can teach a process, but I truly can't teach my magic. And, that… is… well, magic!
---
The Fun Stuff
That first day, I am so glad I sat next to Sara and Michelle (of Michelle and Sara Photography). They're the absolute sweetest mother/daughter photography team, and I'm just going to go ahead and claim best-friend-status before there's even a question about it, okay, Sara?

Kelsea (of Kindly by Kelsea) and I were roomies, and it was SO FUN to finally meet this sweet friend in real life. We stayed up WAY too late, and I got a LITTLE too intense talking all things business and crafting the lives we want for ourselves. I also brought her a Rachel Allene tumbler, because when you want to make friends, you bring gifts.

P.S. If you tweet that last nugget of wisdom, make sure and credit y' girl.

I got to reconnect with all my Speaker Circle girlfriends! Janelle, Corry, Paige, Jess, and I wasted zero time in picking up right where we left off from our retreat in March. I also got to walk to the grocery store to get wine with Paige. It's the little bonding moments that matter.

Kat was sweet and intentional enough to snag me for a bathroom chat here and there to make sure we connected. It meant so much to me to be able to bring our friendship into real life, and the fact that she took the time to share her heart with me! It takes a unique breed of a conference organizer to hold the kind of space she does for attendees.

I met Sianne (of Simply Sianne) in person, FINALLY. She's the most real and down-to-earth person you'll ever meet. She inspired me through her confidence and intentionality, and I was SO PUMPED to hear what she has in store for her people in the next year.

I met Cinnamon, who's a fellow New Mexico native. That's super rare at these events!

Megan (of Megan Martin Creative) was… like… a normal person? Even though she's FAMOUS?! Okay, I tried not to fangirl, and I was so glad I got to have some deep talks with this woman who I look up to so much!

I hugged Lauren Carnes in person, after chatting on Voxer/Instagram DMs for almost a year! DREAMS COME TRUE.

Abigail is also a real human (not just a Marco Polo human), and I cherished hearing her heart and all her big dreams!

Trena Little and I finally got to hang, and I loved hearing all about her journey as an entrepreneur and what she has up her sleeve coming soon.
---
You want to run a business that's about more than conversion rates and sales projections.
You want to cultivate a beautiful life that fueled by that business instead of drained by it.
You want an experience that's a mix of practical learning and deep-heart-checks.
You want to be a part of a family who gets it, and you're not sure where to start.
---
Action Step: If you're like me and Creative at Heart is on your vision board, keep staring at it and keep moving those feet to build a business from your creative heart. The rest will fall into place.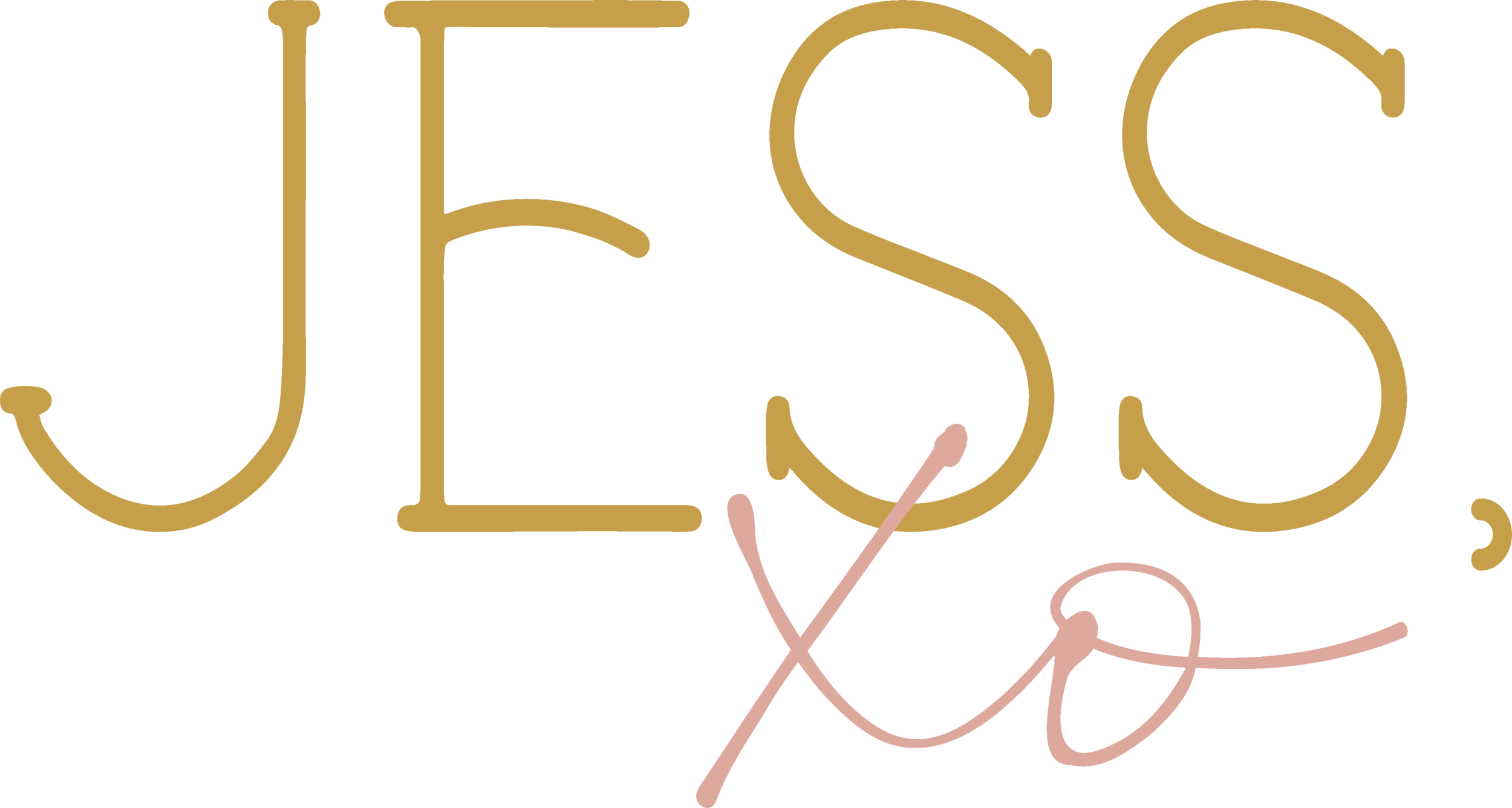 I'm Jess,
iced-coffee-obsessed, saved-by-grace, allergic-to-small talk, and one of the biggest dreamers you'll ever meet.
---
---