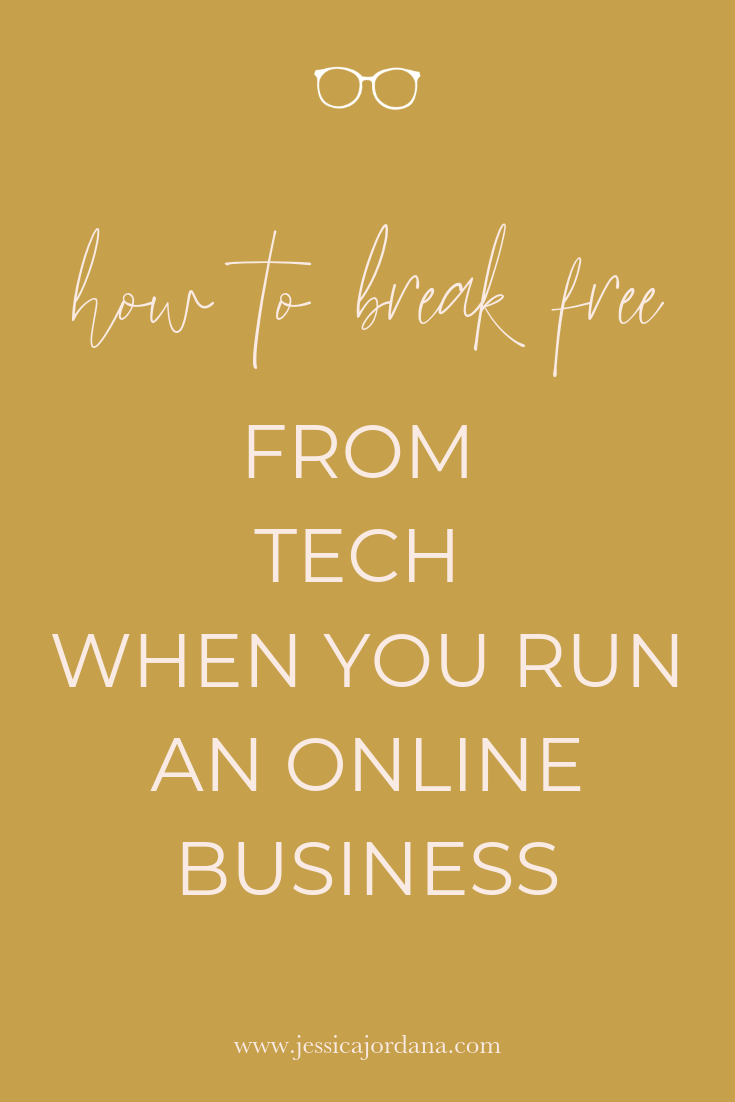 Interesting Fact: I'm writing to you on a Friday afternoon at 2:30 pm.
Now, normally, I would have signed out by now, but…
I don't have anything to do because I QUIT MY PHONE.
Well, technology altogether. NBD, right?
Okay, so I didn't quit COMPLETELY, but I set some real specific boundaries this week, and it increased my productivity so much this week that I…
Finished my chores + housework.

Made big progress with my clients.

Worked out.

Ate well.
I'm not pathetic, and I DO have friends, but since I know I can't just scroll my phone or watch TV for two hours until Presley gets home, I chose to get ahead on my content.
Are you intrigued?
Don't worry, I'll tell you all about it, from how it started to my specific boundaries and even what I learned + what I'm changing, even just one week in.
---
Why quit technology when you run an online business?
It all started with the Amy Porterfield podcast. Because what LIFE CHANGING ideas don't?
Anyway, I was on my morning puppy walk as I listened to Amy's episode with Michael Hyatt about his newest book, Free to Focus.
I was half-listening at first, because I knew he was a routine and leadership guy. I thought, "I have routine! I'm on my morning routine walk. Duh."
The thing was, I had a routine for the first time in almost a year. Great. But, somehow, I wasn't being productive. Still.
You know the feeling, right?
You have your nose to the grindstone ALL DAY LONG, you're refilling your iced coffee because you're workin' away, but…
Have you ever reached the end of a grueling day only to find you haven't TRULY crossed anything substantial off your list?
What could POSSIBLY be more frustrating?
Nothing. It's the worst.
So, what do you do? Work harder? Keep grinding?
Wrong answer. I had to get to the root problem in order to move forward differently in my life and business.
---
The real problem? Fractured focus.
(according to Michael)
The underlying culprit? Technology.
My phone. Instagram DMs. Emails. Little shots of a hormonal drug disguised as red-bubble notifications and vibrant buzzes of validation.
I mean OUCH.
You see, as a newish business owner, checking things is my crutch. Even as I'm writing this, I'm fighting the urge to reach for my phone INSIDE the basket in the bookcase on the other side of my office.
But, as an online business owner who desperately wants to steward this thing WELL, Michael claims I need to treat technology like a part of my business.
Not an extension of my hand.
Not an indication of my worth.
We should treat technology as a tool: put it on the calendar, block the HECK out of time spent, and leave it in your office when you shut down for the day.
While I wish I could literally leave my phone in my office at all times, that's just not realistic. Instead, I decided to create some boundaries around my most distracting technology just for one week.
I treated this as an experiment of awareness, because I really don't know what I don't know when it comes to my best and most-focused flow of a work day.
If you feel like you're starting at the bottom, needing to reevaluate how to structure your days for the most focus and progress, here are some boundaries that got me started.
---
How I Set Boundaries with Tech for One Week
Phone. I set a very simple boundary on my screen time setting. I limited my social media use to 1.5 hours per day. Okay, OKAY. I know that's still a lot! On a day that I'm actually posting to the feed and stories, responding to comments, and more, it goes FAST. HOWEVER, on the days I'm only on stories, I find that SO MUCH of my time is eaten up "just checking" for that shot of dopamine when someone likes my photo or sends me a DM.

Email. Check in the morning. Check in the evening. Limit response times in each block to 45 minutes (but shoot for 30!).

TV. One episode per night with my man. No solo streaming.
What I Learned:
I need hard and fast rules in order to stick to them. I can't just say, "Oh, I'm not going to pick up my phone that's on the edge of my desk… right there… so close… calling my name." You get the point. It goes South, real quick. I had to physically remove my phone from my area and decide when I would be allowed to use it. I had to leave it upstairs, put it on top of my bookcase, or even hide it in a box in my little Harry Potter closet in my office. Desperate times call for desperate measures. The desperation, in this case, is breaking the perpetual habit.
James Clear is my go-to for habit research, and he says in order to break a bad habit, you need to INCREASE the barrier to entry. That means physically putting something in between you and that habit. It might be distance, it might be a door guarded by Dobby the house elf. Whatever it is, make sure you don't make it a sequential habit to just go through that barrier. Notice it, stop the behavior. Get back to work.
I didn't miss A THING. No, I really didn't. I didn't miss comments. I didn't miss DMs. I didn't fall behind on emails. I didn't miss anything big that was going on in the world. If anything, I gave those things more attention because they had their own, defined period of time.
I need a hobby. No, really guys. I've talked about this a lot, but it's a big thing. Writing has been my thing for I don't know how long. It was my blow-off-steam, find-the-best-version-of-myself activity. My favorite thing to do used to be to go to a coffee shop and just write. But, no matter how hard I try, I can't write for fun anymore. Does it still fill me up? Absolutely! But in a totally different way. Anything I write becomes something I think I want to share with you all, and I think that is totally okay, and even GREAT. It just means I need a new hobby. I'm working on it. One of my goals for the year is still to pick up and learn my guitar, but I think I might even need lessons or something to get me going. I'll keep you updated!
I need an accountability buddy. Before I told Presley about the one episode per night thing, it was a silent kind of failure, just a small flash in my mind of, "Oh well, I don't want to inconvenience him. It's not that big a deal." But, once I told Presley and explained to him, he would look at me after one episode, we would turn it off, and it was fine. We weren't successful EVERY night, but that's because…
I need to plan ahead. TV is our relaxation in the evenings, and we need to pre-plan some activities or other leisure options so that doesn't become our default. We both need more hobbies. Our hobby tends to be "improvement." Improve the backyard, improve our home, improve our fitness, etc. All of those turn into WORK at some point, and I'm not always sure what the line is there. What do normal people do for fun? HMMMM.
What I'm Doing Differently:
Planning + selecting my TOP THREE.
I use the My Blueprint Year planner from Shanna Skidmore, and I totally love it. It has a spot, like most planners do now, for a TOP THREE for the day. I used to use this as a simple to-do list. However, per Michael Hyatt's advice, I'm more intentionally selecting my top three to make sure they are moving me toward my big goals. And I am GOING TO DO THEM on THAT day. I'm tired of every plan I have being just another to-do list. I want my plans to become action, and I am committing that to the Lord through prayer before I start my work day.
Implementing Cal Newport's SHUTDOWN ROUTINE.
I honestly am not entirely sure when I stop working. I know I don't technically work in the evenings, but I sometimes head back to my computer after being done for the day to do some research, answer emails, work on a course, etc. In his book Deep Work, Cal Newport implements a simple practice called a "shutdown routine" to check some final things. But, most importantly, at the end of the routine, he closes his computer and says, "SHUTDOWN COMPLETE." Yep, like all dramatic and Star Trekky. Even if this seems silly, I think it will help me draw harder boundaries on closing the circle of a day of work and diving back into life.
Writing down some evening fun stuff to do with Presley.
Again… like… what do people do for fun? I'll keep you updated.
---
This is still very much so a work in progress for me. My Amazon books FINALLY came in the mail, so I'll be reading them furiously, and I'll update you more soon!
Action Step:
Write down ONE boundary for your technology this upcoming weekend or week.
THEN, take a picture of that goal and tag me over on Insta stories or send me a DM (@jessjordana) so I can cheer you on!
Jess, XO
I'm Jess,
iced-coffee-obsessed, saved-by-grace, allergic-to-small talk, and one of the biggest dreamers you'll ever meet.
---
---